Inaugural AI Summit PH to redefine the future with AI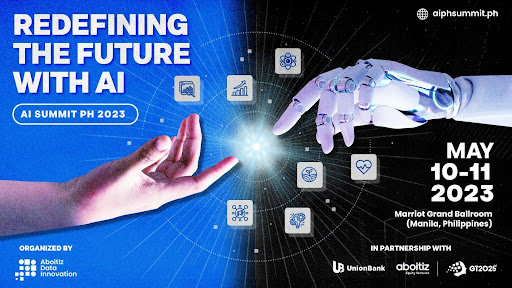 Taking place from 10 to 11 May 2023 at the Marriott Grand Ballroom, Pasay, Metro Manila, more than 1,000 industry professionals from across industries and sectors are expected to gather at the very first AI Summit in the Philippines (AI Summit PH 2023) organized by Aboitiz Data Innovation (ADI) in partnership with Union Bank of the Philippines and Aboitiz Equity Ventures.
With the theme "Redefining the Future with AI", the event will bring together top leaders and distinguished experts from the public, private, development, and academic sectors to discuss the latest trends, innovations, challenges, and opportunities in artificial intelligence.
The summit will focus on three tracks – Data Science & Transformation in Financial Services, Powering Smart Cities through Data, and Operationalizing Data Science and AI. Attendees will have the opportunity to learn from and network with experts in the field, explore new technologies and solutions, and gain insights into how AI is transforming various industries.
"We are thrilled to host the very first AI Summit in the country, bringing together the brightest minds in the industry to discuss and showcase the latest trends and innovations in artificial intelligence," said Dr. David R. Hardoon, ADI Chief Executive Officer. "The summit is a testament to our commitment to driving data-driven innovation in the Philippines. Our objective is to inspire attendees to explore and implement solutions that can transform both the private and public sectors. We look forward to an event that will foster open knowledge-sharing and collaboration, unlocking the full potential of AI towards the future we want."
The event is expected to draw a diverse range of attendees, including government and business leaders, entrepreneurs, policymakers, tech practitioners, and members of the academe.
It will kick off with a keynote address by Third District of Negros Occidental Representative Dr. Jose Francisco "Kiko" Benitez with a keynote on "Reimagining a Sustainable and Equitable Philippines with AI," bringing his insightful expertise as the Chairman of the House Committee on Housing and Urban Development and a member of the House Committee on Information and Communication Technology (ICT).
Secretary Ivan John Uy of the Department of Information and Communications Technology will grace the event to provide a focused snapshot of the Philippines' Data Science & AI landscape.
Other highlights of the program include panel discussions on important topics such as the role of AI in achieving the United Nations Sustainable Development Goals, enabling a transformative and data-driven culture, data access and sharing, responsible use of AI, and bridging tech skills gap, among others. The event will feature interactive sessions that showcase real-world applications of the use of AI by industry experts. An exhibition space will be featured where attendees can explore the latest and greatest AI-powered technologies and solutions from industry leaders such as Google, Amazon Web Services partner eCloudvalley, Harbr, KPMG, Microsoft, Salesforce partner Appistoki, and Informatica.
For more information on the event, please visit https://aiphsummit.ph/.