Strict COVID-19 guidelines and open format make Christmas shopping safer at 'The Outlets' at Lipa and Pueblo Verde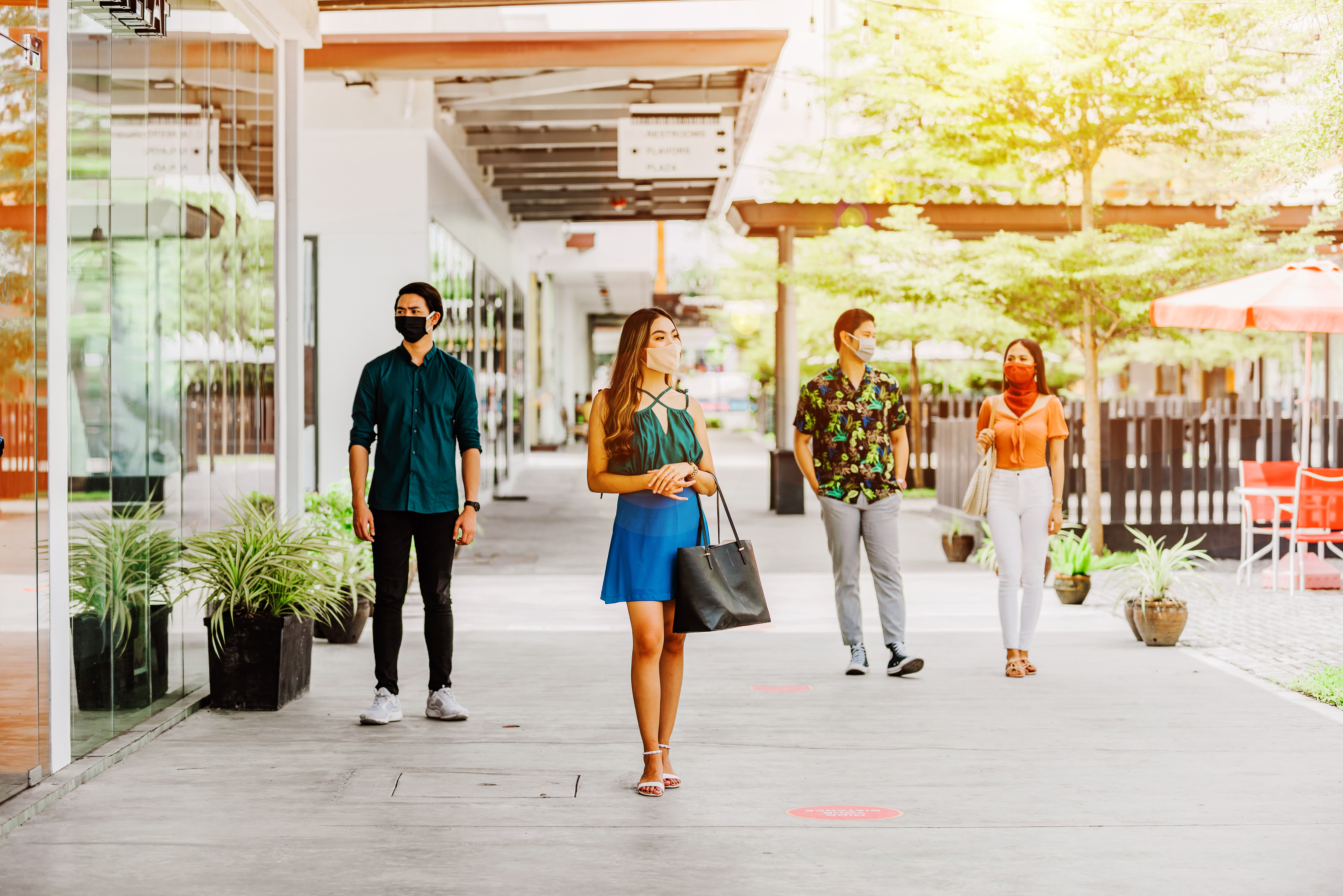 To enjoy shopping and dining with peace of mind this Christmas season, one can go to places that are masterfully designed, professionally managed, and adhere well to public health codes, such as 'The Outlets' at Lipa and Pueblo Verde. Both mall complexes are thoughtfully integrated in the master planned Aboitiz Integrated Economic Centers where they are located: LIMA Estate in Lipa-Malvar, Batangas, and Mactan Economic Zone (MEZ) II in Basak, Lapu-Lapu City, Cebu.
'The Outlets' have a sprawling open-air format, allowing for social distancing to be implemented so visitors can better appreciate the fresh air, surrounding green parks and landscapes, community art spaces, individual storefronts, and al fresco dining. Roving guards are also being deployed to ensure health protocols are enforced. Given the stress, prolonged isolation, and physical inactivity that have resulted from the pandemic, going outdoors and communing with nature – while wearing a mask and following safety guidelines – provide a host of benefits to one's mental health and immune system.
Mall visitors are all required to wear masks and follow other safety protocols while at 'The Outlets.'
Both branches are open daily from 10 AM to 9 PM, according to the community quarantine guidelines. Mall tenants and visitors also follow strict social distancing protocols and safety measures.
At 'The Outlets' at Lipa, year-round discounts are offered by big brand stores that include H&M, Park Outlet, Adidas Outlet, Samsonite Factory Store, Puma Outlet, 158 Designer's Blvd., R.O.X., Sunglass Haven, Cotton On Outlet, Peso Store, and Bench Depot.
Visitors can dine safely and comfortably at our al fresco areas. Outdoor dining provides healthier air quality and better ventilation, giving you a nice view and a safe dining experience.
Dining options abound to satisfy any craving or occasion, including Ippon Yari, Señor Pollo, 60s Diner, Choobi Choobi, Giligan's, LKY's Kitchen, Purple Beetle Cafe, ChunJiang Chinese Restaurant, Koibito's, Cafe De Lipa, Ichiban Boshi, Little Big Bowl, Korean Lounge, Happy Cup, Turks, and Macao Imperial Tea.
Shoppers can enjoy recreational areas in The Outlets at Lipa, such as the dog park, running and biking lanes.
The retail complex also features a dog park, running and biking lanes, and the Aboitiz Pitch which currently hosts Outdoor Movie Nights every Saturday until December 19, as well as Drive-In Holy Mass every Sunday at 11 AM.
Curious what else is happening at 'The Outlets' at Lipa this month? Here is the complete list of their Sparkling Christmas attractions:
Outdoor Movie Nights at the Pitch (every Saturday, 6PM until Dec. 19, 2020)
Don't miss this one-of-a-kind experience of watching movies picnic-style, right at the Aboitiz Pitch! The line-up includes local films "Write About Love", "Bliss", "Patintero Ang Alamat ni Meng Patalo", "Kung Paano Siya Nawala" and "Tayo sa Huling Buwan ng Taon." You can get your tickets at any SM Tickets outlet or online at https://www.smtickets.com/events/the_outlets_outdoor_cinema. You can also buy your tickets at 'The Outlets' at Lipa on Saturdays from 2 PM to 6 PM.
Field of Lights Display (everyday 6PM to 9PM until January 10, 2021)
Get into the spirit of the holidays with 'The Outlets' at Lipa's stunning Christmas display! Be delighted by this unique open space filled with Christmas lights that will surely brighten up your 2020.
#SparklingChristmasBazaar (every Friday to Sunday, until Dec. 20. 2020)
Support local vendors and shop for your loved ones' Christmas gifts at the same time. Drop by the bazaar located at Block H of the complex, right behind H&M.
Drive-In Holy Mass (every Sunday, 11 AM until Jan. 3, 2021)
Do you miss hearing Sunday Mass? We welcome you at the Drive-in Holy Mass at 'The Outlets' at Lipa for a safer way to pray and serve.
Holiday Anniversary Sale (Dec. 11-13, 2020)
Complete your Christmas shopping during our annual sale! Get up to 70% off your favorite brands.
Simbang Gabi (Dec. 15 to 23, 5PM)
Safely observe the annual tradition of Simbang Gabi at 'The Outlets,' to be held at the LIMA Exchange open area.  Proper social distancing measures will be in place.
Likewise, 'The Outlets' at Pueblo Verde undertook necessary precautions with the much-anticipated opening of shops such as Nike Factory Store, Adidas Outlet, Asics Outlet, Onitsuka Tiger Outlet, Puma Outlet, Giordano Outlet, Bambu Outlet, Converse Outlet, Sunglass Haven, Reef, Oakley Outlet, Hush Puppies, Skechers Outlet, Fusion Outlet, Levi's Outlet, Peso Store, Bench Depot, Reva Outlet, Planet Sports Outlet, and Fashion Rack Designer Outlets.
Mall goers can once again enjoy food stops there that include Chikaan, Choobi Choobi, Zubuchon, Kogi-Q, Island Hot Wings, 10 Dove Street Cafe, Bo's Coffee and other complementing food carts.
This Christmas, 'The Outlets' at Pueblo Verde also features a Christmas Bazaar and their very own Christmas Display.
As people return to spending time outdoors, they will be seeking out safe spaces to shop, dine, and spend time with loved ones. 'The Outlets' at Lipa and at Pueblo Verde continue to offer one-of-a-kind lifestyle and entertainment options while prioritizing its patrons' health and safety. For inquiries on available retail spaces, you may reach us via email at sales.leasing@aboitiz.com.