Dear Fellow Stakeholders,
Two years into the pandemic and after riding out multiple case surges, the Philippines is now reopening borders, easing restrictions, and stepping boldly into "the better normal" on the path to economic recovery. Through it all, the Aboitiz Group has worked closely with the government, civic organizations, and our partners in the private sector to help strengthen programs under the national pandemic response. As we move forward into a future forever changed by COVID, we remain firmly committed to our responsibilities. 
This unprecedented moment in history found us devoting unprecedented amounts of time, resources, and energy to addressing the needs of our stakeholders, while never losing sight of our own goals and keeping operations going through the disruption of lockdowns. Our team members never missed an opportunity to keep our promise to advance business and communities, and never forgot for a moment that one in five Filipinos depend on our services. It may be too soon to celebrate full economic recovery from the pandemic, but never too soon to celebrate and thank our A-People for the sacrifices they made and the hard work they put in, even as they faced challenges of their own. The safety and wellbeing of our people remain our top priority.  
2021 Financial Performance
For the full-year 2021, Aboitiz Equity Ventures posted net income of PHP27.3 billion, a 77% increase from PHP15.4 billion in 2020. Power accounted for 57% of the total income contributions from AEV's Strategic Business Units (SBU), followed by Banking and Financial Services at 23%. Income contributions from Real Estate, Food, and Infrastructure SBUs were at 9%, 7%, and 5%, respectively.
AboitizPower's income contribution to AEV for 2021 amounted to PHP16.0 billion, 66% higher than the PHP9.7 billionrecorded in 2020.

 

UnionBank's income contribution to AEV in 2021 amounted to PHP6.4 billion, 9% higher than the PHP5.9 billion recordedin 2020.
One Food Group's income contribution to AEV amounted to PHP2.0 billion in 2021, 10% lower thanthe PHP2.2 billion recorded in 2020.

 

For the Infrastructure group, Republic Cement's income contribution to AEV in 2021 amounted to PHP1.6 billion, 164% higher than the PHP590 million recorded in 2020.
AboitizLand and its subsidiaries reported a consolidated net income of PHP2.6 billion in 2021, 658% higher than the PHP338 million recorded in 2020, and contributed PHP5.3 billion in revenues for 2021, 47% higher than revenue contributions in 2020.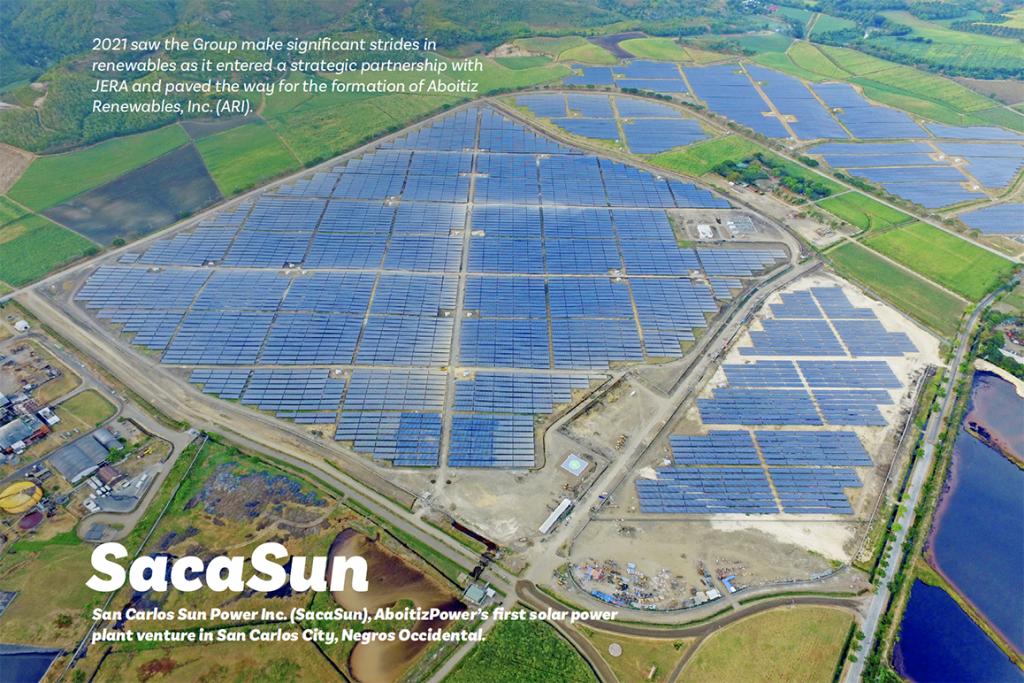 As of December 31, 2021, the Company's consolidated assets totaled PHP733.6 billion, a 20% increase from end-2020's PHP609.2 billion. Cash and cash equivalents stood at PHP147.5 billion, 124% higher than the PHP66.0 billion as of end-2020. Consolidated liabilities totaled PHP405.8 billion, a 5% increase from the year-end 2020 level of PHP385.6 billion, while equity attributable to equity holders of the parent increased by 34% to PHP244.7 billion. AEV's current ratio as of December, 31 2021 stood at 2.3x while its net debt-to-equity ratio was 0.6x.
The Great Transformation For Sustainability
We are optimistic about steady recovery just as we continue to focus on being an evergreen, sustainable organization, firm in our belief that at the very heart of sustainability is adaptability. Any entity with any desire to sustain itself for eternity can only ever do so by continually course-correcting towards the right direction, adapting to the constantly changing and challenging demands of our environments, and keeping a clear-as-possible, long-term view of what the world will look like decades from now, so that we have a fighting chance of not just being in that world, but leading in it. 
And at the very heart of Adaptability, of course, is Change. We've used many words for this – adapt, agile, pivot, innovate, better ways, evolution, revolution, and the list goes on – but the word I've been using most is Transformation, as this seems to capture it quite succinctly. 
The fact that Aboitiz recently celebrated its 100th birthday is a testament to how well we've been able to survive, thrive, and evolve through all the major headwinds and economic cycles of history – and the main reason for this is our openness to change and understanding of its critical implications on our future. More than anything, it was our open-minded willingness to innovate and transform that carried us through the past century, and it will be these same values that will carry us through the next one and beyond. As time goes by, the fundamental need to continually transform will always apply. 
This is why one of the foundational cornerstones of our Sustainability is what we call the Great Transformation, which is our latest major attempt at course-correction that covers every single facet of the organization from the way each and every one of us thinks and acts as individuals in both work and life, to the way the entire Aboitiz Group thinks and acts as a conglomerate, from nuanced behavioral tweaks that can make a world of positive difference and influence, to organizational restructuring that will make us exponentially more agile, productive, and efficient, to ambitious new business goals anchored on hyper-innovation, expanded ecosystems, and knowing that our future depends on the planet's. 
To deny the necessity for the Great Transformation would mean nothing less than being disconnected from the reality we face and the context of a world defined by technology, data, and science. The pandemic intensified this reality and accelerated the need to transform at a rate of speed we did not expect but were fortunately capable of dealing with precisely because of the constantly evolving future-ready mindset we've always inculcated. 
The urgency for this Transformation has literally become this year's first order of business when it was introduced in broad theoretical strokes in my New Year's Message, that it was all about opening a Great door to a wide open space of new opportunities and possibilities for all of us. 
That message and the ones that succeeded were designed and delivered with the objective of accomplishing the first crucial step of any Great Transformation, which is to unlock our minds so that it allows illumination to flood in, to help us understand and realize the common sense behind the decision to make big, sweeping changes in our lives and in the organization. 
We will continue to outline the finer edges of the Transformation and add more brush strokes to paint a clearer picture of it. This will be further clarified, implemented, and measured down the line with a specific roadmap, milestones, and performance assessment tools. All these are intended to show that our GT2025 is doable, desirable, digestible, and most of all, necessary for a truly sustainable future.
The GT has already begun in each of our SBUs. UnionBank acquired the consumer and retail banking assets of Citigroup Philippines, which will accelerate its growth to become a Bank of Enduring Greatness. With its successful digital transformation and the upcoming Union Digital Bank, UnionBank will be more relevant than ever to the communities it serves. 
AboitizPower will continue to provide reliable, affordable, and more sustainable power while delivering substantial value to the Group. Our 2030 target of achieving a balanced 50:50 portfolio between thermal and renewable energy is a leading indicator of the GT. 
The Food Group's transformation into a fully integrated regional agribusiness and food company with a mission to feed humanity will be achieved through its plans anchored on a balanced business portfolio, innovation and optimization of operations, and development of new business in other sectors. 
Aboitiz InfraCap launched a new brand identity that captures their transformative ambition to be the country's first choice for infrastructure. Their 10-year plan continues to revolve around growth through proactive participation in project opportunities in the economic estates, water, digital infrastructure, and mobility and transport sectors. 
Republic Cement is already seeing positive results after they began their transformation to a data science-driven operation resulting in a more efficient process of manufacturing better quality cement.
Introduced to support the GT by adopting and operationalizing data and AI technologies, Aboitiz Data Innovation will work closely with the other BUs to accelerate its own transformational journey towards becoming a conduit for growing ecosystems with limitless possibilities.
It was also a transformational year for AboitizLand, marked by its highest sales in its 26-year history. Their agile and innovative mindset will continue to foster pioneering services like Contactless Homebuying, and the continuing digitization of their operations, organizational transformation, and strategic partnerships will propel them forward and ensure a future-ready workforce.
Sustainability and ESG will continue to develop this year with significant strides towards the UN's sustainable development goals. These strides include our new Sustainability microsite, leadership among Philippine peers in ESG performance , being in the upper quartile among global peers, continued support for the United Nations Global Compact's initiatives and principles, and more renewable energy projects in our development pipeline. 
Message Of Thanks
As we slowly and steadily emerge from the pandemic that has grappled us these past two years, I thank all our shareholders who continue to believe in and share our mission to create long-term value for all our stakeholders in the better normal.
To close, I want to be clear that whatever actions or decisions we pursue to succeed in the Great Transformation must be placed in the hands of a capable and dedicated team.
Daghang salamat to all my fellow team members for your commitment to our purpose and promise to drive change for a better world by advancing business and communities whatever the tides bring us. I am inspired every day to learn and grow as your Chief Engagement Officer and work side by side with you in laying the foundations of the future we hope to create.
#OneAboitiz!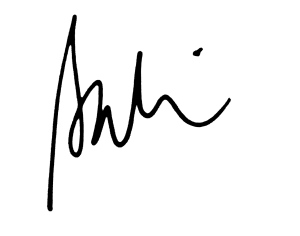 Sabin M. Aboitiz
President & CEO
Aboitiz Group