CitySavings and Thames International School partner with Quezon City LGU for Pilot Learning Loss Recovery Program in the Philippines
City Savings Bank, Inc. (CitySavings), the thrift bank arm of Aboitiz-led UnionBank of the Philippines (UnionBank), has partnered with Thames International School to address the learning loss crisis in the country. Their solution involves a comprehensive and sustainable approach from assessment to intervention in order to support the government's efforts.
During a presentation of the Department of Education's (DepEd) Basic Education Report (BER) last January 31, Vice President and Education Secretary Sara Duterte stressed the importance of the National Learning Remedial Plan in addressing learning loss. Quezon City Mayor Joy Belmonte echoed those sentiments during a visit to the pilot implementation of the QC Learning Loss Recovery Program at Bagumbayan Elementary School. The program is being run by Thames International School and is sponsored by CitySavings.
"Our learning loss problem is very serious. We are in an education emergency. Based on our research, in Quezon City alone, more than two years of pandemic lockdowns resulted in over five years' worth of learning loss. This is why I wanted to declare an education emergency in Quezon City," said Mayor Belmonte.
"We are now starting the call to action to address this issue. And we are glad that we have our first responders in CitySavings. We thank you for being the first sponsor of this very worthy endeavor. We are planning to be very proactive in enticing partners to continue the Learning Loss Recovery Program. CitySavings will serve as an example for other private companies, making it easier for them to be on board as we see that partnerships will be the solution to further strengthen this program," she added.
Following the Asian Development Bank (ADB) Framework for addressing learning loss, students in the pilot program underwent an assessment to determine the extent of intervention needed. A total of 96 Grade 5 students and 77 Grade 6 students underwent the Philippine Assessment for Learning Loss (PALLS) conducted by the University of San Carlos and Thames International School. Following PALLS, the students are now undergoing a two-month high-impact recovery program hosted on the campus of Thames International School.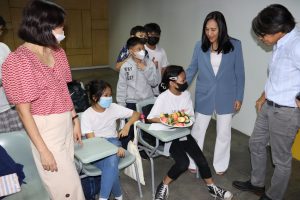 "As part of the Bank's Corporate Social Responsibility (CSR) programs, we at CitySavings are proud to be the first to sponsor and partner with Thames International School to implement the Learning Loss Recovery Program in the Philippines. There is a clear need to address this issue. We are ready to help out in any way we can," said CitySavings Salary Loans Business Head Julian Aboitiz.
CitySavings continues to provide relevant, accessible, and sustainable CSR programs to enable educators to teach and touch the lives of learners nationwide.
"We continue to align and expand our educational support programs to complement DepEd's effort in bridging the gap and scaling up literacy, reading, and numeracy programs. As an active stakeholder, we are one with DepEd and the local governments in their push for educational reforms to improve the delivery of quality, inclusive, and accessible education for all Filipino students," added CitySavings Vice Chairman and Chief Executive Officer (CEO) Lorenzo Ocampo. #