Aboitiz leaders steer the Great Transformation roadmap to the future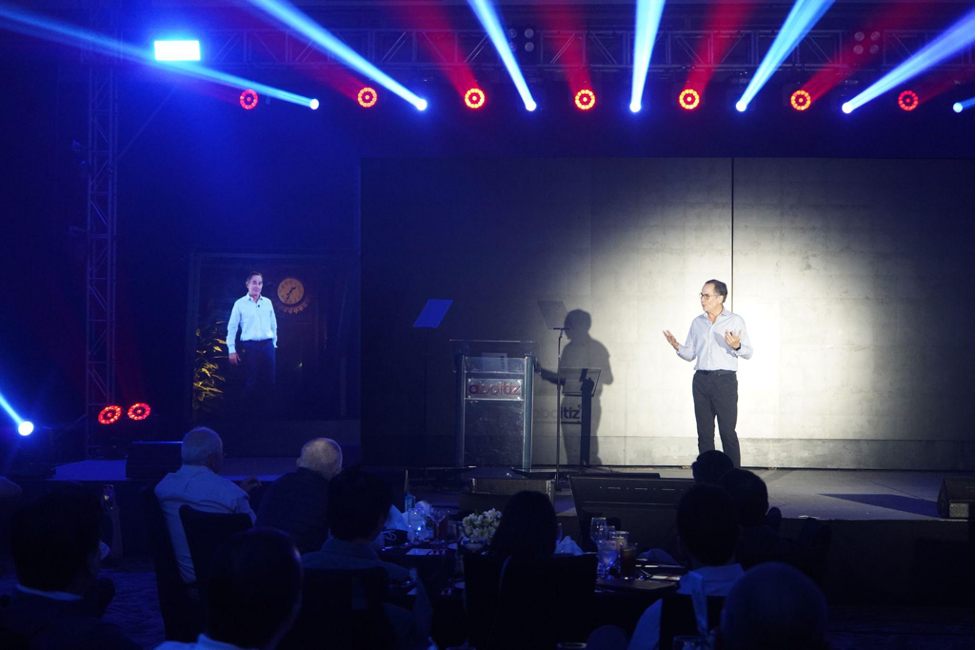 DOUBLE VISION. Aboitiz Group President and CEO Sabin Aboitiz (right) interacts with Aboitiz Group President and CEO Sabin Aboitiz (left). The light-hearted hologram opening surprised team leaders in the audience, setting the tone for the imaginative and tech-driven path of the Aboitiz Group.
After being held virtually for the past two years, the 2023 Aboitiz Leaders Conference (LeadCon) was conducted as a hybrid event on Thursday, February 16. LeadCon brought together 250 Aboitiz team leaders on-site and an additional 250 team leaders who attended through LeadCon's virtual platform.
The hybrid form appropriately set up the direction of the conference: taking valuable lessons in innovation accelerated by pandemic challenges, all while looking ahead at future opportunities for sustainable growth. It was a reminder that advanced technologies are great tools, but they still need to be in the hands of driven and inspired people in order to make a positive impact to advance businesses and communities.
The theme of this year's LeadCon was "Our Techglomerate in Action: Exponential Growth through Speed, Innovation, and Synergy."
The Aboitiz Group's Great Transformation journey to become the Philippines' first Techglomerate is fueled by the renewed entrepreneurial spirit of the Aboitiz team members. With teamwork as the value of the year, Aboitiz team leaders came together to discuss the roadmap to the future leveraging on synergies. When the Group's strategic business units and teams create value for each other through a harmonious synergy network, they achieve Techglomerate premium.
LeadCon opened with a message from Aboitiz Group President and Chief Executive Officer (CEO) Sabin Aboitiz.
"The seed we need to plant for great transformative leadership is believing in each other," said Aboitiz, stressing the importance of synergies of Aboitiz teams and across the Group.
"You can have all these fantastic initiatives but nothing is going to work if you don't believe in each other. You have to get to the core of what you are trying to do, and in terms of transforming our leadership, that core is Belief.
"We believe in each other because it creates a powerful synergy that can produce powerful results. It unleashes an incredible collective energy that can accomplish seemingly impossible goals. Together, leaders and team members can overcome any obstacle and achieve the greatness that you thought was not achievable. This is the kind of environment where creativity flourishes, innovation thrives, and individuals reach their fullest potential," he added.
As the team leaders began to reflect and consider how to actively foster such synergies in their work relationships and teams, a panel discussion jump-started the action.
The panel discussion featured Aboitiz Equity Ventures (AEV) Chief Transformation Officer Emily Sydney-Smith, as well as team leaders across strategic business units: Aboitiz Power Corporation (AboitizPower) President and CEO Manny Rubio, Union Bank of the Philippines (UnionBank) Senior Executive Vice President, Chief Customer Experience Officer and Chief Digital Channels Officer, and newly appointed City Savings Bank (CitySavings) Chairman Ana Aboitiz-Delgado, Pilmico and Gold Coin Food Group (Pilmico) President and CEO Tristan Aboitiz, Aboitiz InfraCapital President and CEO Cosette Canilao, AboitizLand President and CEO David Rafael, Aboitiz Construction Executive Director Antonio Penalver, Aboitiz Data Innovation (ADI) CEO Dr. David R. Hardoon, and Republic Cement CEO Roman Menz.
This was followed by the keynote address delivered by Millenium Project Co-Founder and CEO Jerome Glenn. The futurist discussed future frameworks amidst a changing world order, the increasing corporate role in world affairs, and where the world is winning and losing among global-corporate challenges.
While being future-focused, the conference remained grounded by looking at what the Group could do today. As Aboitiz transitions from merely believing to actually behaving like a Techglomerate, they are paying attention to the human role in technological transformation and innovation by having team leaders who inspire and establish synergies and values.
In his closing remarks, Aboitiz Group President and CEO Sabin Aboitiz noted it was important to remember that in a tech-driven future, technology does not replace but improves. They are tools that can make a difference in the world when in the hands of those who know how to use them properly and thoughtfully. 
"We must understand why AI needs to be ethical, fair, and unbiased. We need to be thoughtful about the effects of technology on human life. We need to stop wasting time living in a world that no longer exists and start learning to live in a world that does. That is what it means to be a leader today," said Aboitiz.
"A machine can never replace the heart and soul of a true leader, and it is the humanity in our leaders that make us believe that anything is possible. A leader is a beacon of hope, a guiding light, a voice that speaks to the very essence of what it means to be human."